Need an Air Conditioner Repair or Replacement? We Can Help!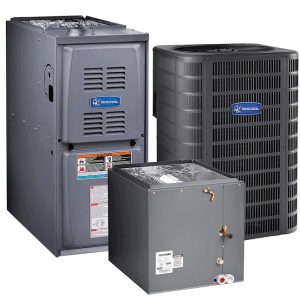 Are you in need of air conditioner repair or replacement services? Look no further! Our experienced technicians are here to help you with all of your air conditioner repair and replacement needs. We understand that an air conditioner breakdown can be a stressful experience, so we strive to provide the best customer service possible. We specialize in fast and reliable air conditioner repair and replacement services, so you can be sure you are getting the highest quality of care. With our commitment to excellence and customer satisfaction, you can rest assured that you are in good hands.
What to do when your air conditioner breaks down
When your air conditioner stops working, it can be a hassle to figure out what's wrong and how to fix it. First and foremost, you should turn the unit off. Then assess the situation and determine if it's an easy fix or if it requires more professional attention. If it's something like a blown fuse or clogged filter that you feel comfortable handling yourself, go for it. However, if you're not sure what's wrong, it's best to call in an air conditioner repair specialist.
If your air conditioner isn't working at all and appears to be broken beyond repair, you'll need to consider getting an air conditioner installation. This can be a tricky process, so it's important to do your research and find a qualified air conditioning technician who has the knowledge and experience to properly install your new unit. A good technician will be able to provide sound advice on the best type of system for your needs, taking into consideration your budget, size of your home, energy efficiency requirements, and other factors. Once you have a new system installed, you should be able to enjoy cool, comfortable temperatures all summer long.
How to Know if you Need a New Air Conditioner Replacement
When your air conditioner stops working or isn't performing as it should, the first question is usually "Do I need a repair or a replacement?" It's important to be able to answer this question correctly, as repairs can be more cost effective than a full air conditioner replacement.
If your AC unit is over ten years old, then it may be worth considering an air conditioner replacement. Air conditioners older than ten years are not only inefficient but also more prone to breakdowns and costly repairs. Even if your air conditioner has been running without issue for a long time, it's possible that it is operating inefficiently and you could save money in the long run with a new AC unit.
You may also need an air conditioner replacement if you have noticed unusual noises coming from your AC unit or if your energy bills have been steadily increasing despite no changes to your usage. Also, if you find yourself constantly having to call in an AC technician for repairs, then an air conditioner replacement may be the best option for you.
It can be difficult to determine whether you need an air conditioner repair or replacement, so it's always best to consult with a professional. They will be able to assess the current state of your AC unit and advise you on the best course of action.
Tips for choosing an air conditioner repair or replacement service
1. Look for an experienced service provider. It's important to choose a service provider with a proven track record of success. When it comes to air conditioner repair and replacement, experience counts.
2. Ask questions. Before you hire a service provider, make sure to ask questions about their experience, qualifications, and insurance coverage. Knowing that you're working with an experienced and knowledgeable technician is key.
3. Make sure you understand the costs associated with air conditioner repair or replacement. Installation costs can vary widely, so it's important to know exactly what your budget will cover before you make a final decision.
4. Choose a service provider that offers a warranty. An air conditioner repair or replacement job should be covered by a warranty in order to protect you in case something goes wrong. Make sure the service provider you hire offers a comprehensive warranty on parts and labour.
5. Consider getting multiple estimates. To ensure you get the best deal, consider getting estimates from several air conditioner repair and installation services before you commit to any one provider.
Do Your Due Diligence
By doing your due diligence and following these tips, you can make sure that you get quality air conditioner repair or replacement services at a competitive price.
Why us?
At Metro BC HVACR Ltd., we understand that air conditioner replacement and installation can be a stressful and expensive endeavour. That's why we are dedicated to providing you with quality, reliable services at affordable prices. Our technicians are highly trained professionals with years of experience working with all makes and models of air conditioners. We guarantee all of our work, so you can be sure that your new air conditioner installation or repair will last. Plus, we are fully insured and licensed to offer air conditioning services in your area. With us, you'll get the best value for your money, along with outstanding customer service. So contact us and let us take care of your air conditioning needs today!
Over 150 REAL Google Reviews >> See for yourself on our Google Business Listing