Looking for quality plumbing services? Check out our latest offers on tankless water heater repair and boiler repair.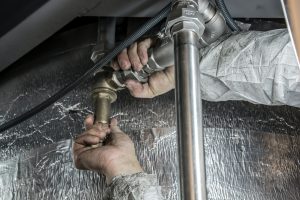 Are you looking for quality plumbing services? Look no further! Our page has just been updated with the latest offers for tankless water heater repair and boiler repair. Whether you're dealing with a malfunctioning water heater or broken boiler, our experienced professionals can help get your system back up and running as quickly as possible. With competitive rates and top-notch customer service, you'll be glad you chose us for all of your plumbing needs. So don't wait any longer – check out our latest offers today!
Quality Plumbing Services
When it comes to plumbing services, you can trust our experts at Metro BC HVACR Ltd. to get the job done right. We offer a full range of services, from fixing toilets and sinks to installing showers and faucets. We can also handle sump pump repair, water pipe repair, and drain pipe repair. With years of experience, our certified plumbers will ensure your plumbing system is functioning properly and efficiently. We understand that your time is valuable, so our technicians work quickly and effectively to get the job done in a timely manner.
Our services include installation, repairs, maintenance, and emergency plumbing. From small jobs to large ones, we can do it all! We use state-of-the-art tools and equipment to get the job done right the first time. Our team is dedicated to providing quality services that are both cost-effective and efficient. No matter what your plumbing needs are, you can count on us for reliable, professional service.
For all your plumbing needs, contact Metro BC HVACR Ltd. today!
Why choose us for your plumbing needs?
If you're looking for quality plumbing services, look no further! We offer a wide range of services, including repairs and installation of tankless water heaters, boilers, garburators/garbage disposals, and sewage pumps. Our experienced team of technicians are certified professionals who will make sure the job is done right the first time.
Our technicians are trained to use the latest industry technologies and have access to the best parts and supplies available. We also provide emergency services 24/7, so you can rest assured that you'll always be taken care of. We use only top-of-the-line products to ensure a long-lasting repair or installation.
Our commitment to our customers is unmatched. We understand that plumbing issues can be difficult and costly to repair, so we take pride in providing excellent customer service and offering cost-effective solutions. We guarantee all of our services and promise that your satisfaction is 100% guaranteed.
For all your plumbing needs, choose us for quality plumbing services. Our knowledgeable staff and certified technicians are here to help you every step of the way. Contact us today for more information about our services and get your plumbing issue resolved quickly and professionally.
Our offers
At our plumbing services, we offer a wide range of repair and installation services to meet the needs of all of our customers. We specialize in tankless water heater repairs, boiler repairs, faucet installations, and Garburator/Garbage Disposal repairs and replacements. We also offer inspections and maintenance services to keep your plumbing system running smoothly.
Metro BC HVACR understands that plumbing repairs can be costly, so we strive to provide our customers with quality services at reasonable prices. Our technicians are highly trained and experienced to make sure that any repair job is done right the first time. We use top-of-the-line products and materials to guarantee that our work is of the highest quality.
Our Garburator/Garbage Disposal repair and replacement services are quick and efficient. We can take care of any repairs or replacements you may need for your unit, ensuring that your garbage disposal continues to function properly.
We are committed to providing our customers with quality plumbing services at an affordable price. Contact us today to discuss your plumbing needs and to find out more about our offers!
What our Customers are Saying
We are proud of the many glowing reviews we have received from our customers whom have experienced our plumbing services. Our team of highly skilled technicians is able to tackle any plumbing problem, big or small. From installing and repairing tankless water heaters and boilers to unclogging drains and replacing old pipes, we are here to help. We also specialize in Garburator/Garbage disposal repair and installation, so you can trust us for all your kitchen sink needs. Our customers rave about our prompt and professional service and our commitment to providing quality workmanship at a fair price. So don't hesitate – call us today to get your plumbing job done right the first time!
Contact Us Today!
At Metro BC HVACR Ltd., we offer top quality plumbing services to meet all your needs. Our services range from tankless water heater repair to boiler repair to Garburator/Garbage Disposal installation. We are committed to providing the highest level of customer service and satisfaction.
No matter the size of the job, our experienced team of professionals is here to help you. We have highly experienced staff who can assess and diagnose any issue quickly and accurately. If you need any type of plumbing service, don't hesitate to give us a call.
We provide both residential and commercial plumbing services and will always make sure that you get the best possible service. Our goal is to make sure that your plumbing needs are met with the utmost care and efficiency. With competitive rates and reliable customer service, you can trust us to get the job done right.
If you would like to learn more about our services or schedule an appointment, contact us today! We are always here to help and look forward to hearing from you.
Over 150 REAL Google Reviews >> See for yourself on our Google Business Listing