Vancouver Water Heater Repair and Replacement Emergency Service
Water heater Repair Vancouver: We all depend on water heaters to work without fail, but when they don't, what can you do? If your water heater is not working properly we're here so you can call us for fast and friendly service. Our licensed technicians are available 24/7 for Vancouver water heater repair emergency service.
Need help choosing a new water heater system for your home in the Vancouver area? We are ready to help you understand your options. We are well versed in gas, electric or tankless water heaters so we'll help you choose a product that makes sense for your home and budget. We'll also help you determine if there are any rebates you qualify for to save you money.
Professional & Affordable Vancouver Water Heater Repairs & Replacement
Metro City offers professional and affordable Vancouver water heaters repair, replacement and installation. We have been proudly serving the Greater Vancouver area since 2003. As a result, our service area includes Vancouver East side, West Side and Kitsilano. You can rest assured that we're licensed, bonded and insured. So if you need your water heater repaired or replaced, we are the company to call.
We have years of experience. Therefore can handle any water heater repair needs whether it's a residential, commercial or tankless water heater. Contact us 7 days a week 365 days a year at 604-558-4545 to talk to one of our water heater repair Vancouver experts.
Same Day Vancouver Water Heater Repair & Service
Low Pricing
No Extra Nights, Weekends or Holidays
Residential, Commercial and Tankless Water Heaters
Natural Gas, Propane Gas and Electric Models
30 Gallon, 40 Gallon, 50 Gallon, 65 Gallon, 75 Gallon, 80 & 100 Gallon Models
Relocations and Multi Installation Systems
Our phones are answered by a water heater repair Vancouver expert 7 days a week so, we're always available to answer your questions or schedule an appointment to get your hot water running again. We offer competitive pricing and will meet or beat any company's onsite price for a similar product and installation so call for a quote right now.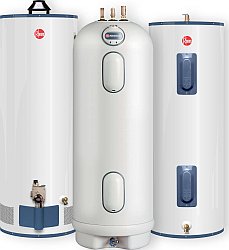 Vancouver Water Heater Repair Leader
We are Vancouver's leader in repair and installation of hot water heaters. Our team of dedicated technicians is committed to providing our customers with reliable water heater repair and replacement so you should call now. We have gas water heaters, electric water heaters and tank-less water heaters. All at the best prices so don't hesitate to call.
If you need hot water heater repairs or replacement in Vancouver we are the company for the job because our water heaters are top of line products with an eight year standard warranty. If your hot water tank doesn't leak our hot water heater repair technicians can repair your water heater so as to save you time and money. We carry most of the water heater repair parts with us so we can give you hot water in less than one hour. Call us anywhere in Vancouver for your hot water tank questions so we can begin helping you today. Standard hot water tank parts that we stock in our vans are:
Temperature and Pressure Relief Valve
Drain Valve
Gas Control
Piezo Ignitor Assembly
Pilot Assembly
Thermocouple
High Limit
24 HOUR EMERGENCY SERVICE
604-558-4545
[button color="white" background="#0066b6″ size="large" link="/contact-us/"]Contact Us Today![/button]
Metro BC HVACR Ltd. Vancouver Water Heater Repairs & Service Includes:
Inspect the hot water heater for cleanliness and possible cracks and defects
Check for sufficient combustion and ventilation air
Ensure water heater meets Fuel Safety regulations
Inspect the main burner and pilot assembly for cleanliness
Check the ignition of the main burner and safety controls for proper operation and correct settings
Check the condition of the chimney and the venting system
Complete a venting spillage test
Check for carbon monoxide spillage and gas leaks
Flush sediment from the hot water tank
Metro BC HVACR Ltd. Fixes and Repairs All Water Heater Brands, Makes and Models In Vancouver:
Service Locations:
Are You in Need of Water Heater Repair or Hot Water Tank Repair in Vancouver?
Are you in need of Vancouver water heater repair or hot water tank repair in Vancouver? If so, you're not alone! Many homeowners find themselves in need of these services at one time or another. Fortunately, there are professionals who specialize in water heater repair and hot water tank repair Vancouver. They can help you assess your needs and find the best solution for your home. Whether you require Vancouver water heater replacement or hot water tank replacement, they have the knowledge and skills to get the job done right. Read on to learn more about water heater repair and hot water tank repair services.
What We Offer
At our company, we offer a range of services to address your hot water heater and tank needs. We provide water heater repair, hot water tank repair, water heater replacement, and hot water tank replacement. We also provide hot water tank inspection and water heater inspection services. Our experienced technicians are equipped to handle any issue that you may have with your hot water tank or water heater. No matter the size of the job, we can get it done quickly and efficiently. With our expertise and attention to detail, you can rest assured that your hot water heater or tank will be fixed correctly the first time.
Our Services
At Metro BC HVACR Ltd., we provide a range of services to meet your water heater repair and hot water tank repair needs. Our services include:
Water Heater Repair Vancouver: We offer complete water heater repair services, with a focus on resolving issues quickly and efficiently. Our team of expert technicians will inspect your water heater to determine the root cause of any issues and provide the necessary repairs.
Hot Water Tank Repair Vancouver: If you're in need of hot water tank repair, our experienced technicians are here to help. We specialize in troubleshooting and repairing all types of hot water tanks, including electric, gas, and propane tanks.
Water Heater Replacement: If your water heater has become too costly or inefficient to repair, we can also provide water heater replacement services. We offer a wide selection of high-quality, energy-efficient water heaters from top brands.
Hot Water Tank Replacement: We also provide hot water tank replacement services. Our team will help you choose the right size and type of hot water tank for your needs.
Water Heater Inspection: To ensure your water heater is running properly, we recommend scheduling regular inspections with our certified technicians. During the inspection, our technicians will check for leaks, corrosion, and other signs of damage or wear and tear.
Hot Water Tank Inspection: In addition to water heater inspection, we also offer hot water tank inspection services. We'll thoroughly inspect your hot water tank for any signs of damage or potential issues and recommend the best course of action for ensuring optimal performance.
Why Choose Us?
When you choose us for your water heater or Vancouver hot water tank repair needs, you can trust that you will receive high-quality service. Our team of professionals are highly skilled and experienced in all types of Vancouver water heater repair and hot water tank repairs. We are familiar with a wide range of brands and models, so we can get the job done quickly and efficiently. Additionally, our rates are competitive, and we provide fast and reliable service. We believe in offering superior customer service and guarantee complete satisfaction with every job we do. When it comes to water heater repair and hot water tank repair, there is no better choice than our team!
Contact Us
If you need help with water heater repair Vancouver, hot water tank repair, water heater replacement, or hot water tank replacement, don't hesitate to get in touch. We are always available to answer your questions and provide the best solution for your needs.
For more information or to get started with a water heater repair or hot water tank repair today, call us at 604.558.4545 or contact us through our website. We're happy to discuss your options and answer any questions you may have.
We also provide emergency service and same-day repairs, so you can get the help you need right away. Give us a call and we will be glad to get your hot water system running efficiently in no time.
Need To  Repair or Replace Your Old Water Heater in Vancouver?
Metro BC HVACR Ltd. installs all types and sizes of gas and electric water heaters. Our licensed gas fitters have the necessary skills to replace your hot water tank in the same day. We install all major brands of hot water heaters Contact Us

Over 150 REAL Google Reviews >> See for yourself on our Google Business Listing