Water Heater Repair Burnaby Replacement Emergency Service
You need a new water heater, but who can you trust to help you choose the right tank? Who can you rely on for fast, reliable Burnaby water heater repair and installation? If you live in North Burnaby, South Burnaby or Central Burnaby area, we've got your back.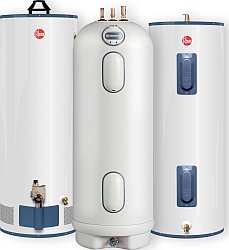 Fully Licensed Burnaby Water Heater Repair Technicians
Our licensed technicians can do it all: inspect your old tank to see if it truly needs replacing. Perhaps simple repairs will get it back to producing the hot water you need. If the water heater has reached the end of its usefulness, our technicians will help you understand the pros and cons of tank and tankless water heaters, so that you can make an informed choice.
Full Service Burnaby Water Heater Repair Company
We are a full service Burnaby water heater repair, replacement and installation company offering residential, commercial and tankless water heaters. We are licensed, insured and have been providing quality low cost water heater installation and repair services in the North Burnaby, Central Burnaby and South Burnaby. Call any of our local numbers 24 hours a day to speak with a live water heater expert or to schedule service in Burnaby.
Most Parts In Stock
Our technicians arrive in a vehicle stocked with water heaters and parts to diagnose and solve your water heater problem quickly, with the least amount of hassle. At Metro City Service Group, we understand a water heater will often fail at the worst possible time and offer quick and easy service, while at the same time using quality products with a very competitive price. Feel free to read our reviews and learn for yourself why our customers rate us 5 stars.
Metro BC HVACR Ltd. is Burnaby's leader in water heater repair, service and replacement. Our team of dedicated gas fitters is committed to providing our customers with guaranteed water heater repair and replacement at the best price. We have gas water heaters, electric water heaters, tankless water heaters.
If you need a hot water heater replaced in Burnaby we are the company for the job. All our water heaters are top of line products with an eight year standard warranty. As long as your hot water tank does not leak, our hot water heater repair technicians can repair your water tank in no time. We carry most of the water heater repair parts with us and we will give you hot water in less than one hour. Call us anywhere in Burnaby for your hot water tank questions. Some of the hot water heater repair parts that we stock in our vans are:
Temperature and Pressure Relief Valve
Drain Valve
Gas Control
Piezo Ignitor Assembly
Pilot Assembly
Thermocouple
High Limits
24 HOUR EMERGENCY SERVICE
604-558-4545
[button color="white" background="#0066b6″ size="large" link="https://www.metrobcheatingservices.com/contact-us/"]Contact Us Today![/button]
Why You Should Always Call a Professional for Burnaby Water Heater Repair and Replacement Service
Hot water tank repair and water heater repair in Burnaby should never be attempted without the help of a professional. If you are experiencing problems with your hot water tank or water heater, it is important to call a professional for repair and replacement services. Failing to do so could result in serious damage to your home, as well as a costly repair bill. We will now discuss why you should always call a professional for Burnaby water heater repair and replacement service.
The Dangers of Do-It-Yourself Repairs
When it comes to water heater repair and replacement, it can be tempting to try to tackle the job yourself. However, DIY repairs come with a certain level of risk that you should consider before deciding to go down this route. Without the proper knowledge, tools and safety gear, you could cause more damage to your water heater than necessary. This could include improper installation of parts, burning yourself on hot surfaces, electric shock, or even leaking gas if you're not careful.
In addition to the risks of DIY water heater repair and replacement, you may also not be able to properly inspect the unit. Without a professional water heater inspection, you may not be able to identify the underlying issue, leading to frequent breakdowns or even the need for a full-on hot water tank replacement in Burnaby.
Hiring a professional can help ensure that your repairs and replacements are done correctly and safely, and that any potential problems with your water heater can be caught and fixed before they become a bigger problem.
The Benefits of Hiring a Professional Burnaby Water Heater Repair Company
When it comes to water heater repair and replacement in Burnaby, there are many benefits to hiring a professional. Firstly, a professional can diagnose the problem more quickly and accurately than a non-professional can, saving you time and money. Additionally, they have access to the right tools and parts needed to complete the job, as well as knowledge of how to safely install or replace your water heater.
Professionals can also provide helpful advice about the best type of water heater for your home. With their help, you can choose a unit that is the most efficient and cost-effective for your family's needs. They can also help you select the right fuel source and size for your water heater replacement so that you get the most out of your investment.
Finally, professionals are experienced in dealing with issues such as water leaks and tank corrosion, ensuring that the job is done right the first time. They can also help you make sure that your new water heater is correctly connected to the plumbing system in order to prevent further damage and avoid future problems.
In conclusion, hiring a professional for Burnaby water heater repair and replacement is an important decision. Not only do they provide invaluable expertise and experience, but they also ensure that the job is done correctly and safely.
Tips for Hiring the Right Professional
If you need to repair or replace your hot water tank, it is important to hire the right professional for the job. Here are a few tips to help you make the best choice:
1. Do Your Research: Be sure to research any potential contractor before hiring them. Ask for references, read reviews, and check their qualifications.
2. Compare Quotes: Get several quotes from different contractors and compare them before making your decision.
3. Read Reviews: Check out reviews from other customers who have used the contractor for hot water tank repair and replacement services.
4. Consider Experience: Consider how long a contractor has been in business when making your decision. An experienced contractor will have the skills and expertise to handle the job correctly.
5. Ensure Proper Licensing: Make sure the contractor you choose is properly licensed and insured to provide hot water tank repair services in your area.
6. Ask Questions: Don't be afraid to ask questions! Have a list of questions ready to ask each contractor you are considering so you can make an informed decision.
By following these tips, you can ensure that you find a reliable and qualified professional for your Burnaby hot water tank repair and replacement services.
Metro BC HVACR Ltd.'s Water Heater Service Includes:
Inspect the hot water tank for cleanliness and possible cracks and defects
Check for sufficient combustion and ventilation air
Ensure water heater meets Fuel Safety regulations
Inspect the main burner and pilot assembly for cleanliness
Check the ignition of the main burner and safety controls for proper operation and correct setting
Check the condition of the chimney and the venting system
Complete a venting spillage test
Check for carbon monoxide spillage and gas leaks
Flush sediment from the hot water tank
Metro BC HVACR Ltd. Fixes and Repairs All Water Heaters Brands, Makes and Models in Burnaby:
Water Heater Repair Burnaby Service Locations:
Need To Repair or Replace Your Old Water Heater in Burnaby?
Metro BC HVACR Ltd. installs all types and sizes of gas and electric water heaters. Our licensed gas fitters have the necessary skills to replace your hot water tank in the same day. We install all major brands of hot water heaters Contact US
Over 125 REAL Google Reviews >> See for yourself on our Google Business Listing