Burnaby Water Heater Repair and Installation Emergency Service
You need a new water heater, but who can you trust to help you choose the right tank? Who can you rely on for fast, reliable Burnaby water heater repair and installation? If you live in North Burnaby, South Burnaby or Central Burnaby area, we've got your back.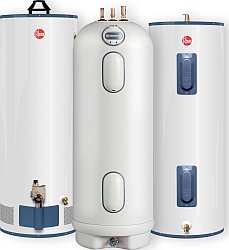 Fully Licensed Burnaby Water Heater Repair Technicians
Our licensed technicians can do it all: inspect your old tank to see if it truly needs replacing—perhaps repairs will get it back to producing the hot water your home needs. If the water heater has reached the end of its usefulness, our technicians will help you understand the pros and cons of tank and tankless water heaters, so that you can make an informed choice.
Full Service Burnaby Water Heater Repair Company
We are a full service Burnaby water heater repair, replacement and installation company offering residential, commercial and tankless water heaters. We are licensed, insured and have been providing quality low cost water heater installation and repair service in the North Burnaby, Central Burnaby and South Burnaby. Call any of our local numbers 24 hours a day to speak with a live water heater expert or to schedule service in Burnaby.
Most Parts In Stock
Our technicians arrive in a vehicle stocked with water heaters and parts to diagnose and solve your water heater problem quickly, with the least amount of hassle. At Metro City Service Group, we understand a water heater will often fail at the worst possible time and offer quick and easy service, while at the same time using quality products with a very competitive price. Feel free to read our reviews and learn for yourself why our customers rate us 5 stars.
Metro City Service Group is Burnaby's leader in water heater repair, service and installation. Our team of dedicated gas fitters is committed to providing our customers with guaranteed water heater repair and installation at the best price. We have gas water heaters, electric water heaters, tankless water heaters.
If you need a hot water heater in Burnaby we are the company for the job. All our water heaters are top of line products with an eight year standard warranty. As long as your hot water tank does not leak, our hot water heater repair technicians can repair your water tank in no time. We carry most of the water heater repair parts with us and we will give you hot water in less than one hour. Call us anywhere in Burnaby for your hot water tank questions. Some of the hot water heater repair parts that we stock in our vans are:
Temperature and Pressure Relief Valve
Drain Valve
Gas Control
Piezo Ignitor Assembly
Pilot Assembly
Thermocouple
High Limits
24 HOUR EMERGENCY SERVICE
604-558-4545
Metro City's Water Heater Service Includes:
Inspect the hot water tank for cleanliness and possible cracks and defects
Check for sufficient combustion and ventilation air
Ensure water heater meets Fuel Safety regulations
Inspect the main burner and pilot assembly for cleanliness
Check the ignition of the main burner and safety controls for proper operation and correct setting
Check the condition of the chimney and the venting system
Complete a venting spillage test
Check for carbon monoxide spillage and gas leaks
Flush sediment from the hot water tank
Metro City Fixes and Repairs All Water Heaters Brands, Makes and Models in Burnaby:
Water Heater Repair Service Locations:
Need To Repair or Replace Your Old Water Heater in Burnaby?
Metro Heating installs all types and sizes of gas and electric water heaters. Our licensed gas fitters have the necessary skills to replace your hot water tank in the same day. We install all major brands of hot water heaters Contact US
Metro City Service Group
Average rating:
3 reviews
Jul 12, 2018
Honest and Knowledgeable
I found Reza and his Metro City Service Group Ltd. while researching Burnaby area companies experienced removing and replacing residential gas water heaters.

My heater was leaking slowly and luckily continued to work. This gave me time to get quotes from several gas fitters including Reza before awarding the deal to him. I chose Reza and Metro City Service Group because he seemed honest and knowledgeable, and gave me the lowest quote. He was also always quick to communicate and answer my questions.

Reza arrived on time and was careful not to damage my home while removing the old heater and moving the new one into position in the basement furnace room.

He quickly and professionally installed the new heater as I watched and asked the occasional question about things like how to partially drain the heater a few times per year to remove sediment and extend its life.

After finishing the water heater installation, I asked Reza to inspect and clean my boiler (furnace) for an additional cost. He did that and showed me pictures of its heat exchanger, which was in good condition.

Based on this experience with Reza today I recommend him without hesitation to anyone needing water heater and furnace/boiler maintenance or replacement.
Thank you Brian for your business
The best review i have ever got
Thanks for your comments
Jun 17, 2018
Fast and Responsive
The service we have received has been exceptional... fast, and responsive.... there is no one else that I would call for my home services!
Thank you Jeff
I appreciate your business
May 15, 2018
Great Experience Twice
Had a great experience twice with metro and reza. He was prompt to come and fix problems within a day and very helpful. Would recommend to friends.
Hi Michelle
It was nice seeing you today again
Thanks for your nice comments
I appreciate it