Vancouver BBQ Outlets – Gas Barbecue Box Installation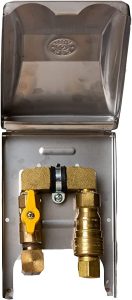 We have awesome gas product solutions for all outdoor gas appliances. Forget about propane tanks, Our Vancouver Gas Barbecue Box Installation service is your maintenance free, simple solution. No need to worry about ever filling, or having to purchase a new propane tank again.
Our Stainless steel gas outlets provide homeowners with simplicity, safety, and reliability. Just turn the Valve and gas is available! When you're done, turn it off. Simple! Manufactured with rugged 304 Stainless Steel our Natural Gas Boxes are built to withstand a lifetime of use.
Benefits of a Stainless Steel BBQ Outlet (Gas BBQ Box):
Never need to use a propane tank again!
CSA Approved, Automatic Safety-Interlock Shutoff Valve.
Durable and aesthetically pleasing brushed stainless steel finish.
Can be used in many outdoor gas appliance applications: BBQ's, Patio Heaters, Outdoor Firepits, and Gas-fired Decorative Lighting.
Convenience at the simple twist of a handle! With a gas hose inserted, your natural gas supply is ready on demand!
Available in single or double outlet configuration, for both low- pressure or 2 psi gas systems.
Quick, easy installation by any Certified Gas Contractor.
Vancouver Gas Barbecue Box Installation – Safety Comes First
Any time you are dealing with gas appliances, safety should be your first consideration. Our natural gas BBQ outlets safely and securely connect your gas appliances to the natural gas supply in your home. The outlet contains a CSA Approved Quick-Disconnect valve that provides fail-safe, easy operation. Simply push back the locking sleeve, insert the appliance connector, and turn the knob to initiate gas flow. No tools are required for a worry-free and modular connection.
Our Stainless Steel BBQ Boxes come standard with a safety-interlock automatic shut-off valve. The safety interlock-sleeve ensures that the appliance cannot be connected or disconnected when the outlet is in the "ON" position. In addition, our boxes are fully fire rated. A built-in thermal protection diaphragm automatically closes the valve to prevent gas flow should temperatures ever reach an excess of 200 degrees Fahrenheit.
Spectacular Quality, Stainless Steel Construction
To further ensure safety, durability, and longevity, our natural gas connections are manufactured using only the highest standards of quality. Every box we manufacture is put through full quality control testing. All stainless steel construction provides a corrosion-free, reliable, no-maintenance product. As well as an aesthetically pleasing finish which complements many of today's modern appliances. The natural gas connection comes with a 1 year unlimited warranty.
Gas BBQ Box Installation
Natural Gas BBQs are among the many outdoor appliances that are gas powered, along with patio heaters. 
Natural gas BBQs are easily hooked up and installed, and are available in many varieties and sizes. However, before deciding on a type of BBQ, think about what you want from it. People who have BBQ's (natural gas BBQs), know it's an important choice to make, as these appliances are very expensive. 
As grills have gotten more powerful and larger, Natural gas BBQs are now more desirable because there are no propane tanks to refill. Moreover, if you have a Natural gas furnace you can use a Natural gas line to connect your BBQ to your house. However, you will need a Natural gas line or piping at a convenient location. You cannot run a gas pipe to your patio by yourself, so it is advisable to contact us or calling us at 604-558-4545 This means you will not run out of gas or have to refill any tanks. Most natural gas BBQ's are extremely popular because of the constant supply of natural gas brought to your home. 
Deciding on a Natural gas BBQ requires a lot of information related to its features, range of accessories and size of the grill. As well as that, the decision depends on the area that you are going to use as a grilling space; the existence (or the lack there of it for that matter) of natural gas furnaces and Natural gas lines should also be taken into consideration. Metro BC HVACR Ltd. can assist you in choosing the perfect one for you.
Service Locations:
Our licensed and insured gas fitters will offer a wise solution for your Vancouver gas barbecue box installation needs no matter how difficult or unique your situation is. Feel free to call us with any time your Vancouver gas BBQ outlet installation questions and we will be happy to assist you finding the right answer for your needs. Contact Us Today!
150 REAL Google Reviews >> See for yourself on our Google Business Listing