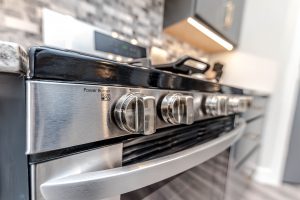 Gas Range, Gas Cook-Top and Gas Stove Installation New Westminster
Why have a New Westminster Gas Stove Installation performed? Natural gas stoves and ovens are convenient, efficient and provide a lot of benefits: You get instant heat with an adjustable flame. If your power goes out, most gas stoves can be lit with a match. They're also stylish and quite inexpensive to use.
Installing your gas range or cook-top is a fairly straight-forward process but, essential safety precautions and inspections must be done both during the installation and after the connectionn to ensure the range or cook-top starts up safely and properly.
MetroBC HVACR Ltd offers a wide range of services including repairs, safety inspections, design, installation and maintenance of residential natural gas & propane appliances such as gas ranges, fireplaces, furnaces, central heating systems, patio heaters, and gas barbecues.
We offer professional installation services that meet or beat all safety requirements, so you can rest assured that after your New Westminster Gas Stove Installation, it is going to start up properly and safely each and every time you go to use it. We also provide repair services for stoves/cook-tops that have already been installed, and we can offer tips to take care of your equipment so that it serves you for a longer period of time. Simply contact us at 604-558-4545 or use our contact us page to send us an email.
Other Natural Gas Appliances we install include:
Gas Barbecues
Gas Fireplaces
Clothes Dryers
Gas Cook Tops
Gas Water Heaters
Gas Furnaces
Gas Patio Heaters
Central Heating
Central Air Conditioning
Lower Mainland Gas Stove Installation Service Locations:
Our licensed and insured gas fitters will provide the right solution for your New Westminster Gas Stove Installation needs no matter how difficult or unique your situation is. Feel free to call us with your gas fitting, gas range, gas cook-top or any other gas appliance installation questions and we will be happy to assist you finding the right answer for your home. Contact Us!
Over 150 REAL Google Reviews >> See for yourself on our Google Business Listing