Navien Tankless Water Heater Repair & Installation

Are you tired of running out of hot water, high energy bills and the idea of constantly heating a big old water storage tank? Ask your Navian tankless water heater repair technician to install a Navien Premium Efficiency (NPE) tankless water heater. Navien Tankless Water Heaters are on top of the energy factor list. Now you can get endless hot water when you need it without heating and re-heating a big tank of water when you don't.
Tankless hot water heaters are more energy efficient than traditional tank water heaters because they heat water as it is used, rather than heating and reheating water in a large storage tank. They use significantly less physical space because they don't have a water storage tank.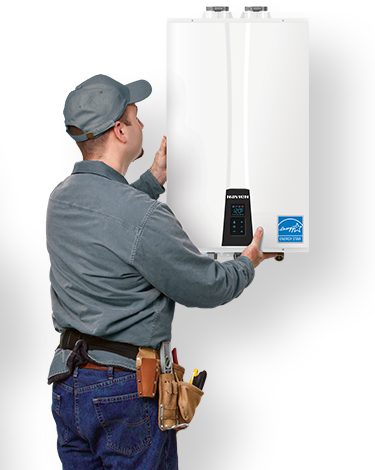 All the hot water you need, for as long as you need it.
The first and only non condensing tankless water heaters with a stainless steel heat exchanger to deliver unmatched durability and performance.
Burns gas at higher efficiency than other system on the market.
Can be cascaded with a second unit for increased domestic hot water flow demand.
Control temperatures remotely, access usage data and receive diagnostic notifications from your smart phone or tablet.
Uses much less space and substantially lighter than traditional tank water heaters.
Installation in or near media rooms, recreation rooms or any living area of the house is possible with a quiet running tankless water heater.
Compare Navien Tankless Water Heater advantages to other tankless water heaters
Exclusive Navien NPN-Universal indoor or outdoor unit and NPN-Exterior dedicated outdoor unit. NPN-E outdoor models feature remote control and built-in button controls for easy service.
Lower Energy Bills & Easier on the Planet!
Unlike systems that waste energy to heat large tanks of water, Navien tankless units utilize up to 82¢ of every $1 to heat your water. A tankless water heater only fires up when hot water is needed allowing great utility bill savings and a lower impact on the environment.
604-558-4545