Viessmann Tankless Water Heater Repair & Installation

Are you tired of running out of hot water, high energy bills and the idea of constantly heating a big old water storage tank? Ask your Viessmann tankless water heater repair technician to install a Viessmann ultra efficient tankless water heater. Viessmann Tankless Water Heaters are on top of the energy factor list. Now you can get endless hot water when you need it without heating and re-heating a giant tank of water when you don't.
Tankless hot water heaters are more energy efficient than traditional tank water heaters because they heat water as it is used, rather than heating and reheating water in a large storage tank. They use significantly less physical space because they don't have a water storage tank.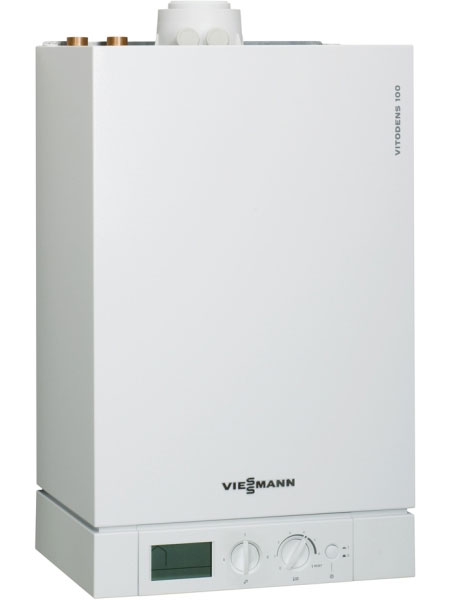 All the hot water you need, for as long as you need it.
Vitodens 100-W, B1HA space heating boiler and Vitodens 100-W, B1KA Combi boiler fits any home and budget with high performance at an attractive price.
Outstanding efficiency of 95% A.F.U.E. on all models.
Low-emission combustion with fully-modulating Viessmann stainless steel MatriX cylinder burner for natural gas or propane.
User-friendly backlit LCD touchscreen boiler control.
Lasting performance with proven Viessmann stainless steel Inox-Radial heat exchanger constructed to CSA B51 and ASME Section IV.
Suitable for altitude levels of up to 10,000 ft. / 3,000 m.
Easy installation and service with pipe connections located at the bottom and serviceable components accessible from the front.
Extremely quiet operation; quieter than most refrigerators.
Built-in on-demand domestic hot water (DHW) with Vitodens 100-W, B1KA Combi boiler. Ideal for apartment units or houses with small mechanical rooms and a single DHW draw point.
Compare Viessmann Tankless Water Heater advantages to other tankless water heaters
With its outstanding design and price/performance ratio, the Vitodens 100-W is the perfect mix of performance and value. The Vitodens 100-W boasts an outstanding efficiency of 95% A.F.U.E. on all models. Its compact design, zero clearance to combustibles and extremely quiet operation make the Vitodens 100-W an ideal choice even in the smallest spaces. Plus, with a limited residential lifetime warranty, you can be sure your investment will deliver long-lasting, value year after year.
Lower Energy Bills & Easier on the Planet!
Unlike systems that waste energy to heat large tanks of water, Viessmann tankless units are a more efficient choice to heat your water. A Viessmann tankless water heater only fires up when hot water is needed allowing excellent utility bill savings and a lower impact on the environment.
604-558-4545
[button color="white" background="#0066b6″ size="large" link="http://metrobcheatingservices.com/contact-us/"]Contact Us Today![/button]