Pitt Meadows Water Heater Repair and Installation Emergency Service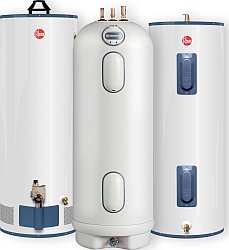 Metro City Service Group is the Pitt Meadows water heater repair company. If you've woken up to the surprise of a leaking water heater or a cold shower then we guarantee same-day service if you call by noon. Our hours are 7am-8pm Monday-Friday and 8am-5pm Saturday and Sunday.
We're homeowners too and know emergencies don't conveniently occur just during the week. That's why we're open seven days a week and don't charge extra for weekend service calls.
Pitt Meadows Water Heater Repair Experts
We're the Pitt Meadows water heater repair experts, and can repair, replace and install electric or gas water heaters, standard tank or tankless models and even hybrid heat pump systems in certain situations. If you're just interested in water heater codes or water heater rebates, we've got you covered there too.
All our certified technicians are background-checked and have years of water heater experience before they ever step foot into your home.
Try to find the water heater model number and serial number before you call so we can identify the age, warranty and any other pertinent information about your water heater. (This info can be found on a large sticker usually on the side of the water storage tank.)
These days, most local communities in Pitt Meadows require a permit for a water heater installation (this will not delay any work, it will just will schedule a safety inspection for a later date).
Pitt Meadows Water Heater Repair Leader
Metro City Service Group Heating is Pitt Meadows' leader in repair, service and installation of hot water heaters. Our team of dedicated technicians is committed to providing our customers with reliable water heater repair and replacement at the best price. We have gas water heaters, electric water heaters, tank-less water heaters. If you need hot water heater repair or replacement in Pitt Meadows we are the company for the job.
All the water heaters we install are top of line products with an eight year standard warranty. As long as your hot water tank does not leak, our hot water heater repair technicians can repair your water heater in no time. We carry most of the water heater repair parts with us and we can give you hot water in less than an hour. Call us anywhere in Pitt Meadows for your hot water tank questions. Some of the hot water tank parts that we stock in our vans are:
Temperature and Pressure Relief Valve
Drain Valve
Gas Control
Piezo Ignitor Assembly
Pilot Assembly
Thermocouple
High Limit
24 HOUR EMERGENCY SERVICE
604-558-4545
Metro City's Pitt Meadows Water Heater Repair Service Includes:
Inspect the hot water heater for cleanliness, possible cracks and defects
Check for sufficient combustion and ventilation air
Ensure water heater meets Fuel Safety regulations
Inspect the main burner and pilot assembly for cleanliness
Check the ignition of the main burner and safety controls for proper operation and correct setting
Check the condition of the chimney and the venting system
Complete a venting spillage test
Check for carbon monoxide spillage and gas leaks
Flush sediment from the hot water tank
Metro City Fixes and Repairs All Water Heaters Brands, Makes and Models In Pitt Meadows:
Service Locations: