White Rock Water Heater Repair and Installation Emergency Service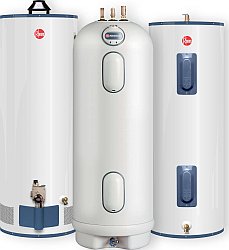 Most of us don't realize how important the hot water heater is until there's a problem. It's one of those things that works seamlessly going unrecognized and under-appreciated for years. Day in and day out, your water heater provides you and your family with the satisfaction of a soothing hot bath or a refreshing hot shower after a long, hard day. If your hot water heater is at the end of its useful life and is giving you an unwelcome cold shock – or even worse a leak, your White Rock water heater repair experts can help you.
We have been serving White Rock and South Surrey since 2003. We are the White Rock water heater repair experts and we're here to help you quickly with our best price guarantee.
White Rock Water Heater Repair Free Estimate
If you're having issues with your hot water heater, call our White Rock water heater repair experts @ 604.558.4545 for a free estimate. We guarantee same-day White Rock water heater repair service, if you call before noon. Call us 7 days a week: 7 a.m. – 8 p.m. Monday-Saturday and 8 a.m. – 5 p.m. Saturday & Sunday. We recommend looking up the model number of your water heater before you call us. This will help us efficiently find the correct repair parts or find you the best replacement. If you don't know where to look, just call one of our water heater repair experts.
Metro BC HVACR Ltd. is White Rock's leader in repair, service and installation of hot water heaters. Our team of dedicated gas fitters is committed to providing our customers with guaranteed water heater replacements and services at the best price. We have gas water heaters, electric water heaters, tank-less water heaters.
If you need a new hot water heater in White Rock we are the company for the job. All our water heaters are top of line products with a 8 year standard warranty. As long as your hot water tank does not leak, our hot water heater technicians can repair your water tank in no time. We carry most of the water heater parts with us and we will give you hot water in less than one hour. Call us anywhere in White Rock for your hot water tank questions.
Some of the hot water tank parts that we stock in our vans are:
Temperature and Pressure Relief Valve
Drain Valve
Gas Control
Piezo Ignitor Assembly
Pilot Assembly
Thermocouple
High Limits
24 HOUR EMERGENCY SERVICE
604-558-4545
[button color="white" background="#0066b6″ size="large" link="http://metrobcheatingservices.com/contact-us/"]Contact Us Today![/button]
Metro BC HVACR Ltd. Water Heater Service Includes:
Inspect the hot water heater for cleanliness and possible cracks and defects
Check for sufficient combustion and ventilation air
Ensure water heater meets Fuel Safety regulations
Inspect the main burner and pilot assembly for cleanliness
Check the ignition of the main burner and safety controls for proper operation and correct setting
Check the condition of the chimney and the venting system
Complete a venting spillage test
Check for carbon monoxide spillage and gas leaks
Flush sediment from the hot water tank
Metro BC HVACR Ltd. Fixes and Repairs All Water Heaters Brands, Makes and Models in White Rock:
Service Locations:
Need To Repair or Replace Your Old Water Heater in White Rock and South Surrey?
Metro Heating installs all types and sizes of gas and electric water heaters in White Rock. Our licensed gas fitters have the necessary skills to replace your hot water tank in the same day. We install all major brands of hot water heaters Contact US
Over 125 REAL Google Reviews >> See for yourself on our Google Business Listing