Tsawwassen Water Heater Repair and Installation Emergency Service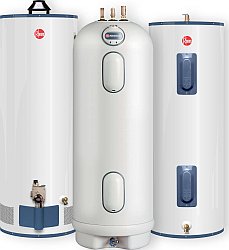 Has your water heater broken down? Whether you are in need of expert water heater repair or replacement services, you can count on our team to exceed your expectations. Our Tsawwassen water heater repair technicians always arrive promptly and well-equipped to get the job done right the first time. Upon arriving at your property we will thoroughly inspect your hot water heater. We will then inform you of any repairs that need to be completed in order for your water heater to work at maximum efficiency.
Tsawwassen Water Heater Repair or Replacement
As your water heater ages it will require more frequent upkeep and maintenance. Is your water heater is more than 10 years old? Have you spent half the cost of the new unit on maintenance in the past year? In either case we may advise you to replace the water heater completely. We specialize in providing courteous service alongside high quality repair and installation services. Allow our team to handle your next water heater service!
Tsawwassen Water Heater Repair Leader
Metro BC HVACR Ltd. is Tsawwassen's leader in repair, service and installation of hot water heaters. Our team of dedicated technicians is committed to providing our customers with reliable water heater repair and replacement at the best price. We have gas water heaters, electric water heaters and tank-less water heaters. If you need hot water heater repair or replacement in Tsawwassen we are the company for the job. All our water heaters are top of line products with an eight year standard warranty.
As long as your hot water tank does not leak, our hot water heater repair technicians can repair your water heater quickly. We carry most water heater repair parts with us and can give you hot water in less than an hour. Call us from anywhere in Tsawwassen with your hot water tank questions. Some of the hot water tank parts that we stock in our vans are:
Temperature and Pressure Relief Valve
Drain Valve
Gas Control
Piezo Ignitor Assembly
Pilot Assembly
Thermocouple
High Limit
24 HOUR EMERGENCY SERVICE
604-558-4545
[button color="white" background="#0066b6″ size="large" link="https://metrobcheatingservices.com/contact-us/"]Contact Us Today![/button]
Metro City's Tsawwassen Water Heater Repair Service Includes:
Inspect the hot water heater for cleanliness and possible cracks and defects
Check for sufficient combustion and ventilation air
Ensure water heater meets Fuel Safety regulations
Inspect the main burner and pilot assembly for cleanliness
Check the ignition of the main burner and safety controls for proper operation and correct setting
Check the condition of the chimney and the venting system
Complete a venting spillage test
Check for carbon monoxide spillage and gas leaks
Flush sediment from the hot water tank
Metro Heating Fixes and Repairs All Water Heaters Brands, Makes and Models In Tsawwassen:
Water Heater Repair Service Locations:
Need To Repair or Replace Your Old Water Heater in Tsawwassen?
Metro BC HVACR Ltd. installs all types and sizes of gas and electric water heaters. Our licensed gas fitters have the necessary skills to replace your hot water tank the same day. We install all major brands of hot water heaters Contact US
Over 125 REAL Google Reviews >> See for yourself on our Google Business Listing